Life in the Cosmos: Travel Information
The workshop will be held at the Ripley Center on the SI Mall. A PDF map showing the location of the Ripley Center on the Mall is
here.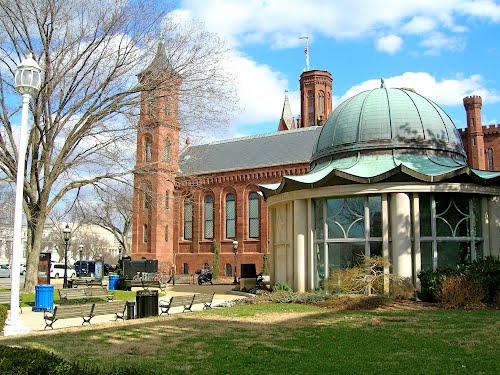 The Ripley Center Entrance, next to the Castle on the SI Mall.
The closest airport to the SI Mall is Washington Regan International (DCA). To get from DCA to L'Enfant Plaza Hotel and the Ripley center:
The cheapest (and generally fastest and easiest) way is the DC Metro. L'Enfant Plaza has a subway stop and it stops directly under the hotel on the YELLOW line. Click here for an interactive map.
Peak Fare (in effect weekdays from opening to 9:30 am and 3-7 pm and weekends midnight to closing) from DCA to L'Enfant Plaza is $2.20. Off-peak is $1.80.
TAXI from DCA to the SI Mall and L'Enfant plaza costs $10-15, depending on traffic conditions.
SuperShuttle of DC is a shared minibus service and can be cheaper than a taxi. It requires 24 hour notice for pick-up to/from the airport or Amtrak Station

AMTRAK stops at Union Station near the center of DC. To get to the Mall from the station is easy on the Metro - take the red line and change at Gallery Place to the yellow line.