Chandra True Color Images for SNR J0105.1-7223
Individual images are binned by 4476 x 4212 pixel(s) and adaptively smoothed.
Warning: the adaptive smoothing process sometimes produces artifacts.
convolution method: fft
kernel type: gauss
significance (min, max): (3, 5)
RED
200-750 eV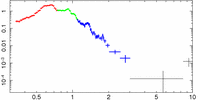 GREEN
750-1100 eV
BLUE
1100-3000 eV

link to individual band images in "images of each energy band" page ( which are not adaptively smoothed).

original size image (jpg)
original size image (ps)